---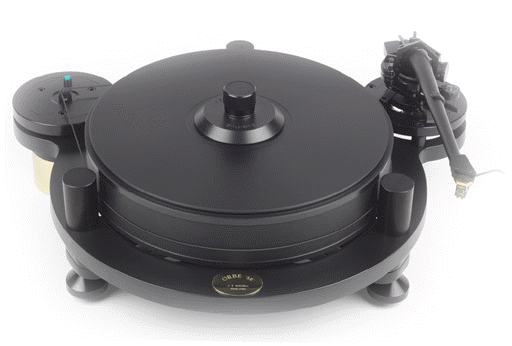 John Michell è stato nominato da una giuria come il miglior progettista dello scorso secolo. Il suo più famoso giradischi è stato il Transcriptor, immortalato nel film "Arancia Meccanica" di Stanley Kubrik, e presente nel museo d'arte moderna di New York. Sempre Michell, realizzò i modellini delle navicelle spaziali in "2001 Odissea nello spazio".

We have been building quality audio turntables for over 35 years now, which makes us one of the oldest manufacturers still in business. The GyroDec turntable has been around for over 25 years, and even its first incarnation can still be upgraded to the latest status. Michell turntables are precision instruments, built to last, and to reproduce sound as close as possible to the mastertape.
---

---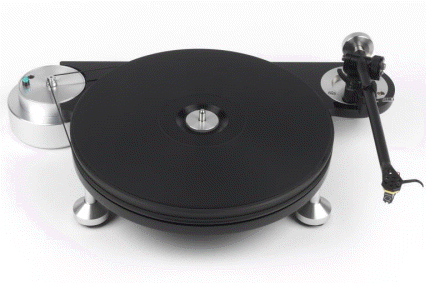 JA MICHELL TECNODEC


€. 1.575,00

Giradischi a cinghia 33/45 giri, con om202 braccio, con basetta Gyro Arm. VERSIONE Giradischi a cinghia 33/45 giri, braccio OEM202 e record clamp 1.915,00 euro

Our new entry-level turntable, taking the low-noise DC motor and the impedance-matched platter of the GyroDec, along with an advanced bearing on an elegant solid-plinth design with damped feet. The Michell TecnoDec requires no user-setup or maintenance. Solid-plinth turntable with standalone motor Acrylic/vinyl platter, impedance-matched to the record Oil-pumping inverted bearing High-quality standalone DC motor Arm board for Rega-compatible arms Optional record clamp Optional HR power supply Optional dust cover Finished in black acrylic with aluminium metal parts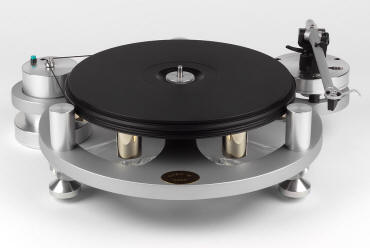 JA MICHELL GYRO SE

€. 2.810,00

Giradischi a cinghia 33/45 giri con clamp, senza braccio e basetta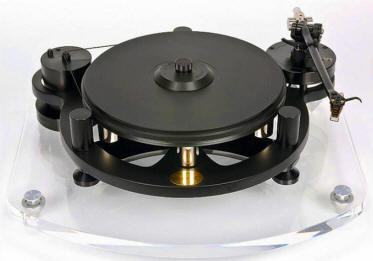 JA MICHELL GYRO SE BLACK €. 3.105,00

Giradischi a cinghia 33/45 giri con clamp, senza braccio, senza basetta. Finitura nero

Based entirely on the GyroDec, but without the costly acrylic plinth and dustcover, the Gyro SE brings the same qualities in a more affordable and compact package. A Michell Gyro SE can always be converted into a GyroDec by purchasing a plinth and dustcover. Spider chassis, suspended stable subchassis Massive acrylic/vinyl platter of high inertia, with gold-plated brass weights Inverted oil-pumping bearing Custom arm boards available for most tonearms High-quality standalone DC motor Optional clamp Optional HR supply Optional Orbe-style platter and clamp Optional dust cover
Finished in silver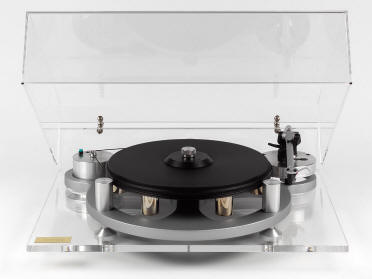 JA MICHELL GYRODEC €. 3.670,00

Giradischi a cinghia, 33/45 giri, senza braccio e basetta. Finitura argento VERSIONE Finitura oro o nero 3.955,00 euro

The classic Michell turntable, continuously refined during many years of development to the current level of performance. The Michell GyroDec is a three-point spring-suspended turntable of medium mass, which is compatible with most quality tone arms in existence. Earlier GyroDecs can always be brought up to present spec, and every modern GyroDec can be upgraded to almost the status of the mighty Orbe. Single acrylic chassis, aluminium suspended subchassis with stabilized operation and internally isolated suspension turrets Impedance-matched acrylic/vinyl platter, with brass weights for high inertia Record clamp Oil-pumping inverted bearing Custom arm boards available for most tonearms High-quality standalone DC motor Optional HR power supply Optional upgrade to Orbe-style platter and clamp Finished in clear or tinted acrylic with aluminium metal parts, or in black acrylic with black and bronze metal parts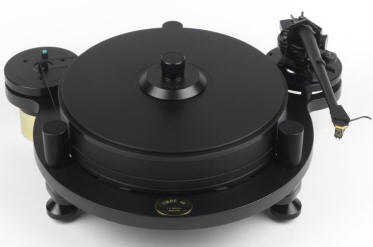 JA MICHELL ORBE se

€. 6.440,00

Giradischi a cinghia 33/45 giri senza braccio, con basetta, finitura oro, nero ,argernto

By eliminating much of the expensive acrylic, the Michell Orbe SE offers most of the Orbe's qualities in a cheaper, smaller, and to some people aesthetically more pleasing package. An Orbe SE can always be upgraded to a full Orbe by purchasing the double plinth and dustcover. When teamed with an RB250 or RB300 tonearm, the Orbe SE is a surprisingly affordable entry to the Orbe-class of performanceSpider double chassis, suspended pendulum subchassis Damped subchassis 60 mm thick massive acrylic/vinyl platter of high inertia Screw-down record clamp Inverted bearing Custom arm boards available for most tonearms High-quality standalone DC motor with tacho feedback speed control Orbe Controller NC supply with Never-Connected circuit Optional dust cover Finished in black or clear acrylic with black metal parts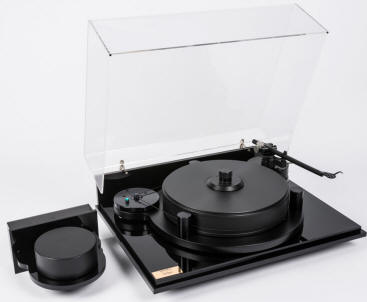 JA MICHELL ORBE €. 7.370,00

Giradischi a cinghia 33/45 giri, doppio controtelaio, Gyropower QC e basetta inclusi, senza braccio finitura oro, nero ,argernto

The Michell Orbe turntable takes the established concept of the GyroDec and adds to it an extra level of isolation, better structural damping, and an improved motor drive system. As of January 2004 the motor controller employs the revolutionary Never-Connected mains isolation circuitDouble chassis, suspended pendulum subchassis Damped subchassis 60 mm thick massive acrylic/vinyl platter of high inertia Screw-down record clamp, compatible with standard and 180g audiophile pressings Inverted oil-pumping bearing Custom arm boards available for most tonearms High-quality standalone DC motor with tacho feedback speed control Orbe Controller NC motor power supply with Never-Connected circuit Finished in clear or black acrylic with black or aluminium metal parts
---


---

JA MICHELL OEM202 €. 325,00

Braccio a canna dritta selezionato

JA MICHELL OEM303 €. 565,00

Braccio a canna dritta selezionato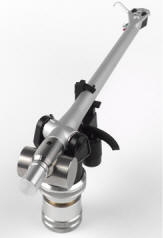 JA MICHELL TECNO ARM A €. 1.095,00

Braccio RB 202 ricablato e modificato nel contrappeso, finitura argento In versione nero 1.125,00 euro

The TecnoArm(a) is a fundamental mechanical rebuild of the well-known RB250 tonearm, to which is added monolithic wiring of the highest quality. The arm tube is bead-blasted and perforated, which disperses structural resonances and yields a lower effective mass. The arm wand is internally damped to reduce resonance further, and the headshell is machined flat, to allow true azimuth relative to the bearing craddle. After modification the bearings are re-adjusted for highest possible performance, according to original Rega procedures. One-piece perforated arm casting with internal foam damping Proprietary silver litz cable in a continuous run from cartridge to amplifier PTFE dielectric, metal braided shielding, separate ground wire Silver-plated cartridge clips and phono plugs Two counterweights, matching cartridges of 4-7g and 7-13g Vertical tracking force adjuster in steps of 0.1g Vertical tracking angle adjuster Finger locknut for easy arm removal or VTA adjustment One year warranty
---

---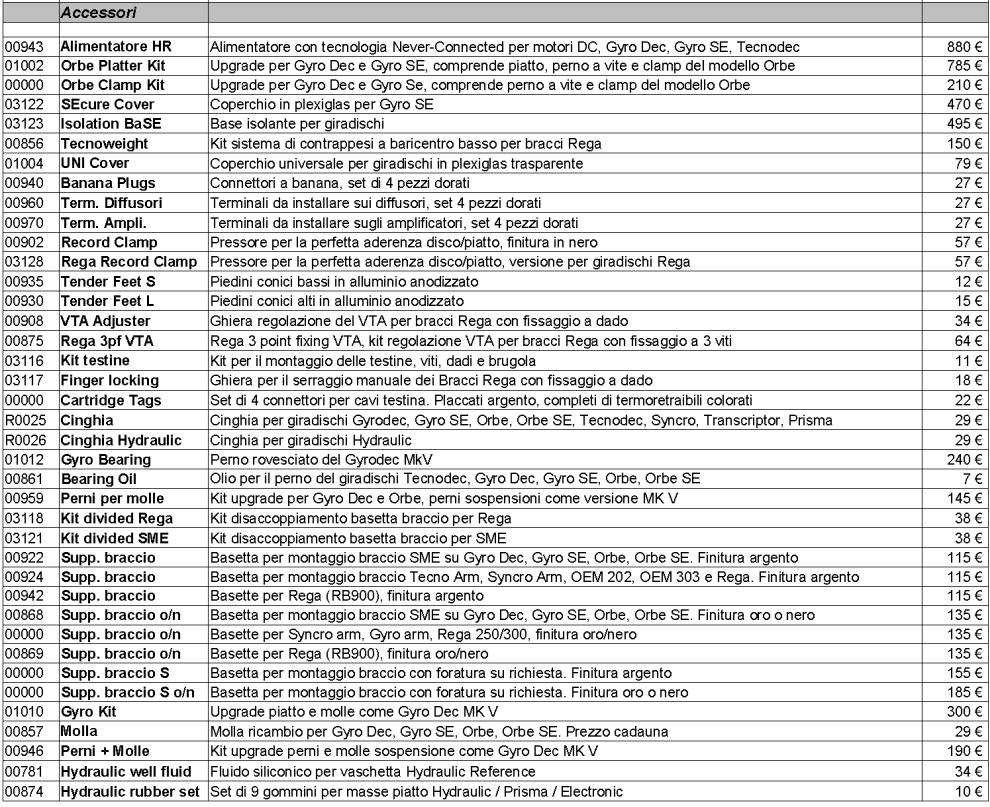 ---
FAQ LA TECNOLOGIA
---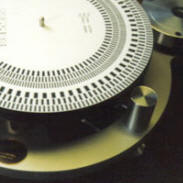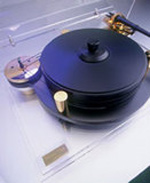 Making a turntable...The task of a turntable seems to be simple. At audio frequencies, the arm should be kept locked above the groove, without any extraneous motion relative to the cartridge. And the groove should be dragged at a constant angular speed underneath the stylus. This means that over the whole frequency band of 10Hz up to 20kHz and beyond, the whole loop made by record, platter, bearing, (sub)chassis, arm board, tone arm, and cartridge body should behave in an utterly rigid and non-resonant fashion. Any flexure of the same dimensions as the microscopic undulations in the groove detracts from sonic fidelity. At lower-than-audio frequencies, the arm should be made able to freely follow the groove's warps and excentricities, so as not to damage LP or cartridge, and this without inducing any spurious signals into the cartridge's generator. Only when these demands are fulfilled can the stylus trace the actual information embedded in the record's groove walls. A simple task, you said?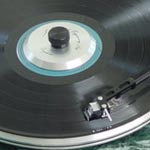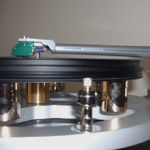 LP records are warped. LP records vibrate along with the music as the stylus traces the groove. And LP records tend to move and bend under the pressure of the arm and cartridge when they are insufficiently supported. Michell turntables clamp the record to a hard platter. This flattens out warps, and it also couples the LP tightly to the platter so that internal resonances can be drained away from the stylus, as if the LP effectively is of a much higher thickness and rigidity. The Gyro SE and GyroDec models use a simple clamp to press down the LP record; the Orbe and Orbe SE benefit from a more advanced screw-down clamp and a washer that raises the LP at its center: under action of the clamp the record's playable area is then very tightly pressed down onto the flat platter, right to its edges. We make the platter from a proprietary self-damping compound of carbon/vinyl -loaded acrylic. This material closely approaches the mechanical and acoustical properties of the vinyl record itself, enhancing the coupling between both. Indeed, at boundaries of materials with like acoustic impedances, transmission of vibrational energy occurs. Whereas at boundaries of dissimilar materials, be they LP versus felt, metal, glass, or just air, only part of the energy is transmitted, the remainder being reflected back into the album, towards the stylus. Above measures not only result in a neutral and precise sound, but also in a very low susceptibility to record blemishes, ticks and pops. This is one of the reasons why a Michell Engineering turntable not only excels in the replay of good LPs, but also pulls the same trick with less than pristine records. Surely a benefit in this age of scarce fresh vinyl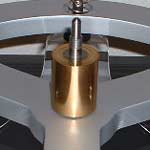 The platter should be supported so that it can revolve smoothly, without any extraneous vibrations and motion. This is the job for the main bearing, the very heart of a turntable.
We employ a unique inverted bearing that locates the point of rotation above the center of gravity of the platter, and exactly at the height were the drive belt invokes. This makes the platter/bearing a self-stabilising component that can not be provoked into rocking modes. The precision bearing has a case-hardened steel shaft that is secured upright in an oil well, threaded into the subchassis from below. A massive bronze housing, precision-machined as a pair with the shaft, is attached to the platter via the integral record spindle. A thrust ball sits on the flat top of the shaft centralized by an inverted cone in the top of the housing. This housing has a spiral machined into its inner bore to draw a high quality synthetic oil from the bath to the top of the bearing shaft as the housing rotates with the platter. A hole is drilled from the top of the shaft down to the oil well to allow the trapped oil to return to the bottom. This unique oil pumping mechanism results in low friction and wear, and in low rumble and noise. Year after year of operation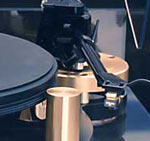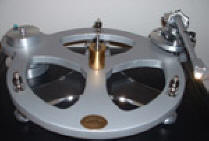 The LP/cartridge/arm trio is to reside on its own 'island'. The suspension decouples them from the outside world with its motor noise, footfall, acoustic vibrations, and other potential disturbances. All of our turntables, except the TecnoDec, suspend the heavy subchassis and platter from three extension springs. This is an elegant and self-stabilising solution as the center of gravity of the floating mass is conveniently put below the suspension points. Rocking and nodding modes of the subchassis are hence discouraged, while overall turntable setup is straightforward, and drift is virtually inexistent. In addition, the total suspended mass of about eleven kilograms ensures that any incoupled energy can not result in large displacements. The spring towers double as the actual turntable supports, terminated in heavy aluminium cones. The towers are sectioned in two vertical parts, making a high-pressure point-contact with a bearing ball. This makes for a true three point support, which gives the springs and the suspended subchassis a firm reference to ground. The floating chassis' task is to keep the bearing and arm board rigidly in relation to each other. It is a heavy and rigid cast aluminium component, internally strengthened with beams and ribs. The Orbe and Orbe SE benefit from an additional layer of DensoDamp mastic which results in an acoustically inert subchassis with excellent self-damping properties. Offering a wide range of custom-made arm boards, we can keep the mass, and the mass-distribution, of the subchassis, platter, and arm a known constant. This translates into a suspended chassis turntable that works optimally with almost any existing tone arm. Off-the-shelf boards can be delivered for the following tone arms: Michell, Rega, SME (both types), Graham, Wilson-benesch, Morch, Origin-Live, and Linn. Others can be made to order.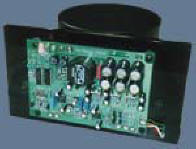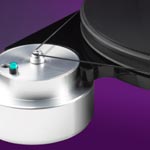 The most obvious task of a turntable is to keep the record at a constant and precise angular speed, without low-rate drift, without audible wow, and without high-frequency noise components which detract from the music's delicacy. The 3.5 kg heavy platter, precision balanced, acts as a large flywheel. The Orbe's platter is made of three GyroDec platters bonded together to form one massive slab of acrylic. The GyroDec and Gyro SE employ a single-thickness acrylic platter, loaded with the gold-plated brass weights which over time have become Michell's signature. Once up to speed, and aided by the low-friction bearing, the platter only wants to maintain its motion, and not much extra input from the motor is needed. This motor is a very precise, reliable, and low-noise DC motor that has been selected only after extensive listening sessions and reliability tests. The Orbe models use a version of the same motor with a tacho speed control loop back to the supply. With all turntables the motor is a stand-alone unit, housed in a heavy base of metal (almost 3kg for the Orbe), to elimate vibrational breakthrough to the turntable. The HR and Orbe Controller NC supplies effectively isolate the motor from the potentially poluted mains network. Drive is relayed to the platter via a precision-ground soft round-section neoprene belt, which runs around the platter's circumference. This results in a very high reduction of noise transfer from the motor.
---

---
Legenda istruzioni

Clicca per qui per vedere : FOTO PRODOTTO

Clicca per qui per vedere : ISTRUZIONI PRODOTTO

Clicca per qui per vedere : CATALOGO,PROVA RIVISTE SPECIALIZZATE PRODOTTO
---
Nota bene *
Per ordinare o avere gli ultimi prezzi aggiornati telefona al 0174 670100 o invia un E-mail a info@newaudio.it
*I prezzi indicati sono di listino ufficiale delle case produttrici ,nel caso di diffusori si riferisce al prezzo del singolo diffusore per offerte ed eventuali promozioni telefonare o inviare e-mail.
*Il presente listino sostituisce ed annulla ogni precedente. Le caratteristiche e i prezzi indicati possono variare senza preavviso telefonare o inviare un e-mail per ulteriori domande e conferme sui prezzi sopra riportati.
*Tutti i marchi citati nel presente listino sono di proprietà e registrati alle rispettive Case Produttrici
*Prezzi franco nostro magazzino
---